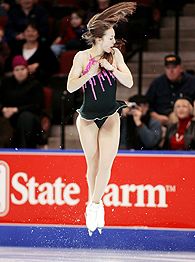 Kimmie's not the favorite... but that still doesn't make it easy
As far as expectations, I have the highest for Kimmie. As a matter of fact, only Kimmie and her family's expectations can overcome mine. While everyone is looking for her to win ( my objective as well), my main concern is for to to go and skate two clean programs and the rest will take care of itself.
Too many people are caught up in the outcome of 2009, and 2010, and placements. While this is very important, we should be thinking about the immediate issue at hand; that is for this young lady to devoid of all the pressure being imposed on her and go out there, be herself and deliver two strong programs. I have faith in her, I am quite sure she can do it, and SHE WILL!.
Kimmie is smart, poised and confident. SHE WILL DELIVER!