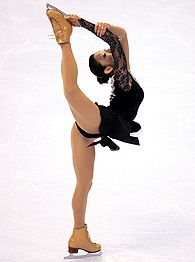 It's the Name of the Game
According to Blades On Ice Magazine March and April Issue, Japan's Miki Ando will undergo surgery on her right shoulder at the end of this skating season. She has been complaining about shoulder pain since Skate America and had attributed her performance or lack there of as a result of the injury. She had dislocated her right shoulder during a skate at Japanese Nationals and has continued to skate despite the injury.
I don't want to be callous, however, the question remains: should we attribute her lackluster performance this season because of the injury? I remember an interview Johnny Weir had with one of the sportcasters when he had withdrawn from the Grand Prix Final Last year (2007) and how he was being criticized for being full of excuses. According to Mr. Weir everyone is about excuses when the situation is not to their benefit.
I can almost guarantee that if Ando was having a good season we would not have heard so much about the dislocated shoulder which by the way she had skated with the entire season. Speaking about excuses, Meissner had been nursing a sprained ankle prior to the Grand Prix Finals. She had not mentioned it. Pam, her former coach, had brought it to the media's attention. I am going to go on a limb and attribute Meissner not so great performances to that sprained ankle.
Some of you reading this may see my point, while others might think "how rude" and hard and unsympathetic of me to even think this way. The truth is everyone is about excuses especially when circumstances are not in their favor.